Conference Site Information
• Conference Location: Maps and Directions
• Campus Accomodations
• Hotel Accomodations
---
Conference Location: Maps and Directions
The Conference will take place in the Calit2 building, Atkinson Hall (dark blue on the map below). For a larger view, click here. For a view of the whole UCSD campus, click here.

Parking information can be found on the Atkinson Hall website at http://atkinsonhall.calit2.net/directions/.
Free Parking will be available in Lot P705 (adjacent to Lot P704) with shuttle service between the parking lot and conference venue. Click here for map and directions to Lot P705.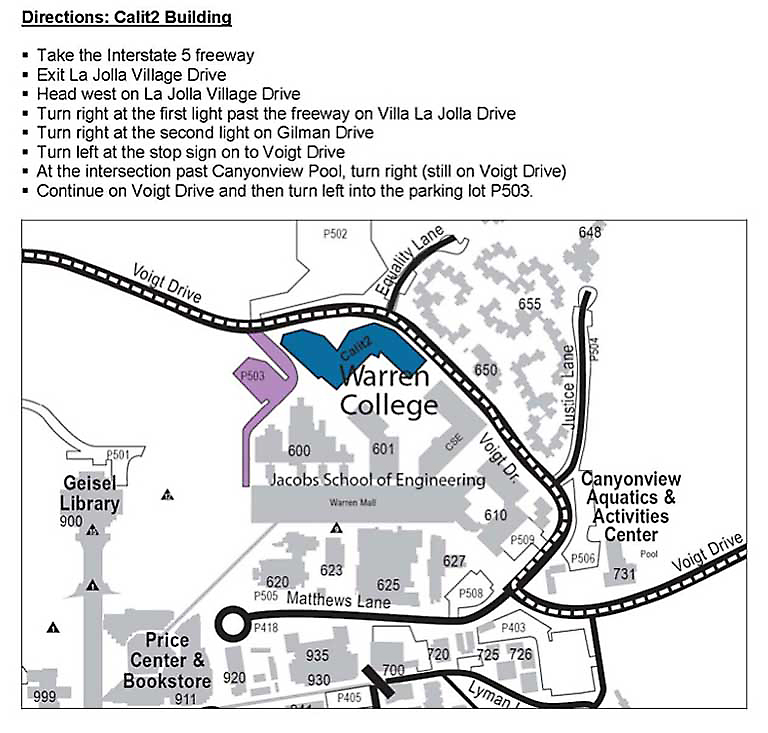 ---
U.C. San Diego Campus Accommodations
Single or shared rooms are available in campus apartments while you are attending the CSB2007 Conference. It will be about a 10 minute walk to Mandeville Auditorium from your campus residence.
Apartments consist of two bedrooms with two single beds per room, living room, kitchenette; bathroom and balcony. There is no air conditioning in the apartments – but being so close to the beach – it is not really needed.
If you wish to have one of the bedrooms in the apartment to yourself – that would be considered a single (there would be someone else housed in the other bedroom – 2 ppl per apartment) Sharing a bedroom in the apartment would be a double (there would be two other people in the other bedroom – 4 ppl per apartment) The apartments will be same gender apartments unless specified on Housing Registration Form.
Towels exchanged daily – linen exchanged weekly. Parking permits are required on campus from Monday – Friday, no permit needed on weekends. The cost of parking is included in the housing rate.
The Housing Registration form, payment and Waiver of Liability Insurance form must be received before your arrival on campus. We will not be able to accommodate attendees who have not made their arrangements in advance.
If you request UCSD campus housing, you should receive a confirmation email with maps and other details after your application is received and processed. If you have additional questions, contact UCSD Conference Services at 858.534.4220 or visit http://hds.ucsd.edu/conference/contact.html.
Most attendees will be staying at the Warren Conference Apartments. Wired and wireless accounts for internet access at Warren will be available for a $10.00 fee covering the length of your stay. For more information about Warren Conference Apartments, visit: http://hds.ucsd.edu/conference/warren.html.
---
Hotel Accomodations
CSB2007 has made arrangements with nearby hotels to provide special rates for Conference Attendees. To qualify for the conference rate, you must provide the hotel's promotional code when you make your reservations.
Residence Inn by Marriot
8901 Gilman Drive
La Jolla, CA 92037
(858) 587-1770

Group code: CSBCSBA
Room rate: $229 per night
Check-in: 4:00 pm
Check-out: 12:00 pm

Ground transportation to/from the San Diego airport and the Residence Inn is available for $14 per person each way via two shuttle service providers:
Cloud 9 Shuttle - (800) 974-8885
Express Shuttle - (800) 900-7433
Please contact either service directly to reserve a seat that coordinates with your arrival and departure schedule.

This hotel is about 2 miles from the conference site (Calit2). Information about the hotel shuttle service will be forthcoming.

For information about the facility and to make your reservations online, see the hotel website:
http://www.marriot.com/hotels/travel/lajca-
residence-inn-san-diego-la-jolla/
© 2007 Life Sciences Society. All rights reserved.